What is Osteoarthritis of the Hands?
Osteoarthritis (OA) can occur in the hands when the cartilage between the bones wear down over time due to wear and tear contributing to pain and anatomical changes to the hand. OA cannot be corrected but progression of the cartilage loss can be slowed down and pain/joint function can be improved with lifestyle changes and proper treatment from your healthcare provider.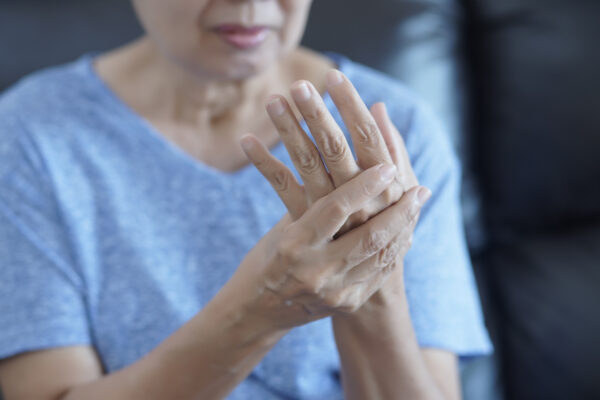 Osteoarthritis of the Hands Symptoms
Symptoms for OA occur over time but these are some general signs/symptoms:
Pain and tenderness with movement or direct pressure to affected location

Joint stiffness and loss of flexibility especially with decreased activity or movement of the hand 

Popping or grinding sounds and sensation from the affected joint 

Bone spurs at the joint (Heberdens nodes and Bouchards nodes are common)

Swelling by inflammation of the joint soft tissue
What Causes Osteoarthritis in Hands?
OA is caused by the gradual loss of cartilage between bone which can eventually lead to bone-on-bone contact. Cartilage is typically firm and slick tissue that assists with smooth and frictionless movement of the joints throughout the body. When this cartilage starts to deteriorate due to over-use, then the bones do not have that smooth "buffer" to assist with typical movement.  
Risk factors for developing OA can include:
Age

Sex (females more likely to develop  OA)

Obesity (extra body weight adding stress with weight to the joints)

Previous joint injuries 

Genetics

Bone deformities from birth 

Certain metabolic diseases 
Osteoarthritis Hands Conservative Treatment Options
Conservative treatment can include nonsteroidal anti-inflammatory medication such as Advil, Motrin IB or Aleve and Acetaminophen such as Tylenol to control pain based on the recommended dose on the bottle. 
Therapy can assist with providing exercises and splints to assist with general use of the affected hand with fabrication, or providing resources to purchase a splint to maintain and protect the integrity of your hand. Your OT may also suggest environmental adaptations such as built up handles to increase your ability to complete your everyday activities with less pain and discomfort.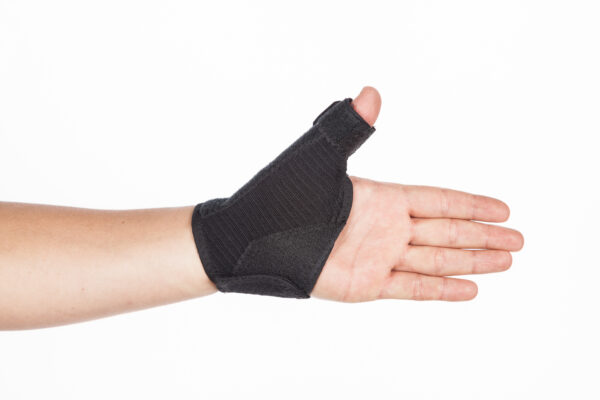 Hand Surgery for Osteoarthritis
Should conservative treatments prove unsuccessful in managing your pain and other symptoms, then you can discuss possible surgery or injection options with you physician.
Cortisone injections are implemented in the affected area and may assist with pain management while surgery can include but is not limited to joint replacement, joint fusion, or ligament reconstruction (specifically for the thumb). 
Precautions/Contraindications?
Avoiding stated risk factors by staying active, observing for any changes to the sensation and/or structure of your hands and fingers, and knowing when to discuss any concerns with you physician can assist in the treatment of OA. Do not over use the affected hand/fingers with repetitive and straining motions and allow time to rest the affected hand/finger based on the guidelines from your therapist. 
References:
https://www.mayoclinic.org/diseases-conditions/osteoarthritis/diagnosis-treatment/drc-20351930
A little bit about Amy Eckert, our visiting OT student…
Hi! My name is Amy and I am Creighton University Occupational Therapy Student completing my Doctoral Capstone Experience at Colorado Springs Therapy Center for the past 14 weeks. I plan to graduate with my Doctorate in Occupational Therapy in May 2022 and have hopes to specialize in hand therapy with an ultimate goal of becoming a Certified Hand Therapist. I have completed other fieldwork experiences where I provided direct care to clients in a hand therapy setting which further sparked my interest in specializing. I have always been interested in anatomy and passionate about serving others in a healthcare profession so occupational therapy has allowed me to combine both interests! One of my favorite quotes which I feel embodies occupational therapy and hand therapy is, "Man, through the use of his hands as they are energized by mind and will, can influence the state of his own health" -Mary Reilly, OT