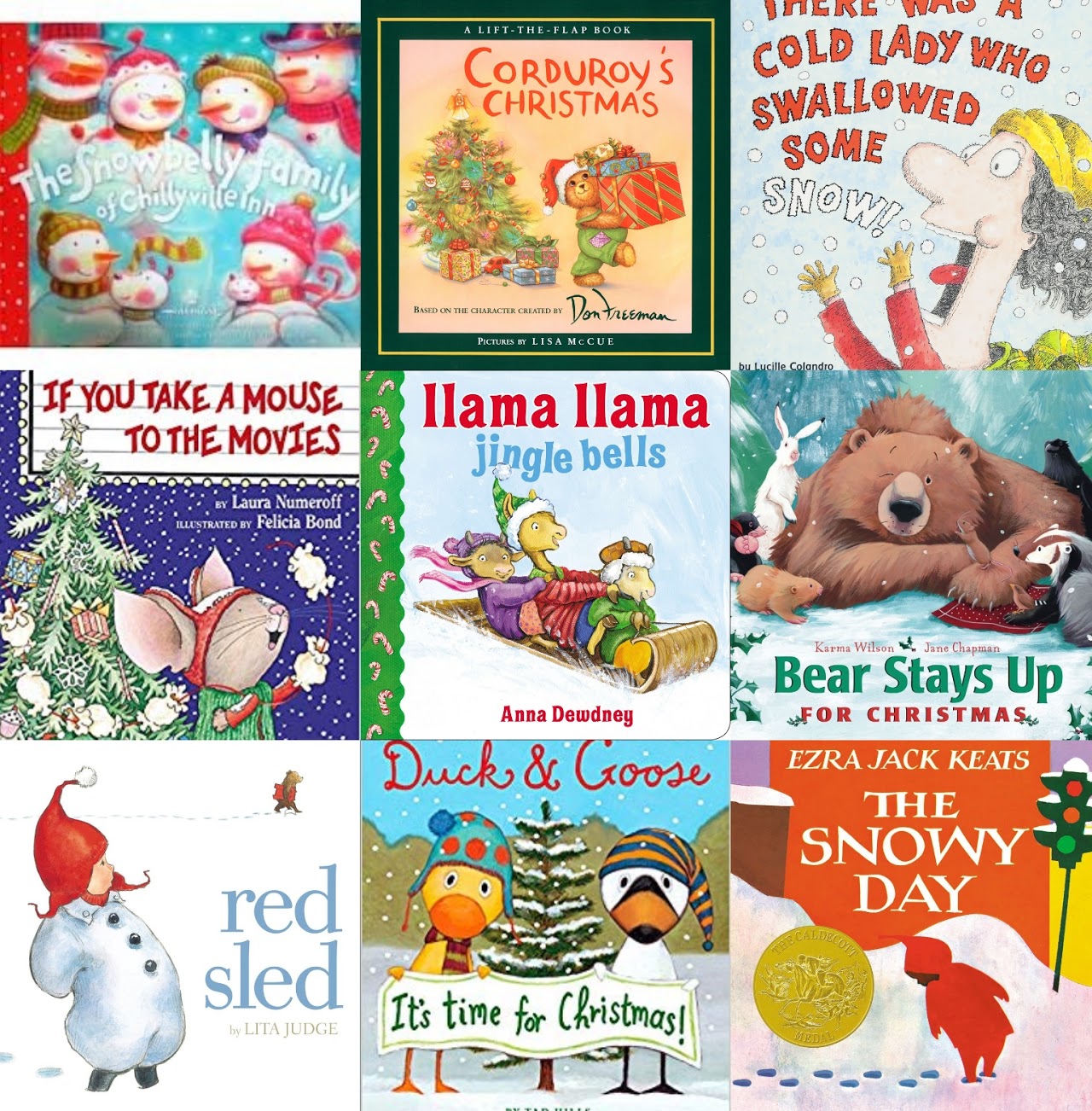 The Snowbelly Family of Chillyville Inn: This book is good for kids working on /l/. It has really fun pictures to talk about and it also has lots of rhyming words–good for auditory discrimination.
Corduroy's Christmas: It's interactive! It has flaps for kids to lift, which is really good for kids who can't sit still for a long time. It has lots of opportunities to work on spatial concepts and prepositions as well as holiday vocabulary kids may not get to use very often.
There was a Cold Lady who Swallowed Some Snow: This is part of a series of books, and these are fun because you can sing the children's song that goes with it. This is a good strategy for kids who have trouble paying attention. It has lots of opportunities to work on /s/ blends. It's a silly book which is great for kids who love absurdities, or for the kids who have a hard time understanding what's real and what's not. It's great for yes/no questions! (Do we REALLY swallow rocks? NO!)
If You Take a Mouse to the Movies: This book has lots of Christmas vocabulary, and it's good for working on /m/ sounds and /s/ sound at ends of the word. Work on finding the mouse on each page to help with spatial concepts!
Llamma Llamma Jingle Bells: This book is good for kids working on /l/ sounds and rhyming. This one also has Christmas vocabulary.
The Snowy Day: This is simpler story and it's great to target /s/ blends. This book is also good for teaching pronouns because the story is about a real boy instead of an animal, which can sometimes be tricky for kids to understand.
Duck & Goose it's time for Christmas: This book is good for kids working on /k/ and /g/ in various word positions, and it's great for teaching negatives in sentences (i.e. no, not). It's also great to target verbs.
Red Sled: This is more of a wordless picture book. This one is good for kids to work on story telling or topic maintenance. (We're only talking about THIS page right now). This one is also good for kids who are working on their sounds in conversation who need to just work on carry-over.
Bear Stays Up: This book is good for targeting spatial and size concepts, rhyming, /b/ sounds, and Christmas vocabulary. It is also good for introducing forest animal vocabulary since kids are more exposed to zoo and farm animals.