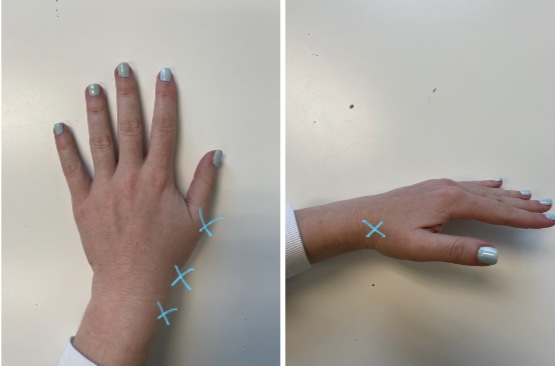 Pictures to represent the thumb side and area affected
What is De Quervain's Tenosynovitis?
De Quervain's Tenosynovitis occurs when there is inflammation to the tendon sheaths on the thumb side of the wrist which can cause pain and discomfort due to repetitive motions and over use. The inflamed tendon sheaths pass through a structure of the thumb side of the wrist which causes the associated pain while turning the wrist, making a fist, or gripping when the tendons do not pass through smoothly.
What are De Quervain's Tenosynovitis Symptoms?
Symptoms may include:
Pain on the thumb side of your wrist

Swelling at the base of the thumb

Pain while completing tasks that require grasping, pinching, twisting, lifting motions with the  thumb and wrist

Constant aching, burning, or pulling sensation near base of thumb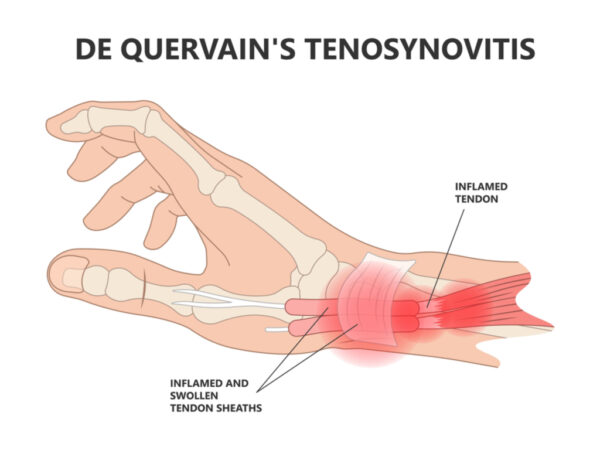 Risk factors for developing De Quervain's include:
Age (between the ages 30 and 50)

Sex (more common with female)

Associated with pregnancy

Child rearing (repetitive lifting of child)

Occupations which require repetitive hand and wrist motions 
What Causes De Quervain's Tenosynovitis?
The inflammation to the tendon sheaths is caused by chronic overuse of the wrist contributing to the thickening and swelling of the structure positioned over the tendons to restrict the movements causing pain. 
Other causes may be related to scar tissue after an injury to the wrist or thumb or inflammatory arthritis (like rheumatoid arthritis. 
Conservative treatment for De Quervain's Tenosynovitis
It is important to try to reduce the swelling and irritation for De Quervian's. As such, over-the-counter anti-inflammatory medications such as ibuprofen along with resting the affected hand and wrist, compression with Coband (self-adhering sports wrap) or a compression sleeve/glove, ice, and elevation are important in the initial stages of the inflammation. Corticosteroid injections may be recommended by your physician to reduce the swelling near the base of thumb, as well. 
Your occupational therapist will provide specific exercises and modalities such as taping and ultrasound to address pain, inflammation and other associated deficits. Additionally, recommendations for splinting and activity modifications to reduce the motions which aggravate the hand/wrist will be provided. 
What Does De Quervain's Tenosynovitis Surgery Look Like?
Should these conservative treatments prove unsuccessful, then your physician may recommend surgery as an alternative option. Surgery is typically an outpatient procedure which releases the pressure from the tendon sheaths so that the structures may glide smoothly. 
Precautions/Contraindications?
It is important to rest the affected hand/wrist while there is inflammation as continuing to over-use in daily activities will progress the pain. Be sure to wear your splint based on the recommendations from your healthcare provider and be mindful of those activities which aggravate the hand/wrist while the splint is off. 
References:
https://www.mayoclinic.org/diseases-conditions/de-quervains-tenosynovitis/symptoms-causes/syc-20371332
A little bit about Amy Eckert, our visiting OT student…
Hi! My name is Amy and I am Creighton University Occupational Therapy Student completing my Doctoral Capstone Experience at Colorado Springs Therapy Center for the past 14 weeks. I plan to graduate with my Doctorate in Occupational Therapy in May 2022 and have hopes to specialize in hand therapy with an ultimate goal of becoming a Certified Hand Therapist. I have completed other fieldwork experiences where I provided direct care to clients in a hand therapy setting which further sparked my interest in specializing. I have always been interested in anatomy and passionate about serving others in a healthcare profession so occupational therapy has allowed me to combine both interests! One of my favorite quotes which I feel embodies occupational therapy and hand therapy is, "Man, through the use of his hands as they are energized by mind and will, can influence the state of his own health" -Mary Reilly, OT