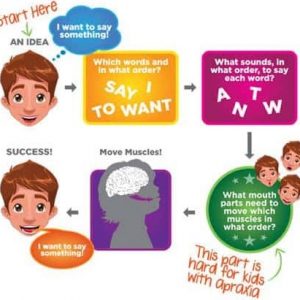 What is apraxia? Childhood apraxia of speech (CAS) is a motor speech disorder that makes it difficult for children to speak. Children with the diagnosis of apraxia of speech generally have a good understanding of language and know what they want to say. However, they have difficulty learning or carrying out the complex sequenced movements that are necessary for intelligible speech. (Taken from Apraxia Kids website:
https://www.apraxia-kids.org/
)
Apraxia is a motor planning disorder. Like it was mentioned above, a kid knows what to say, they just can't seem to get it out. This is because there is a disconnect somewhere between the motor strip in their brain and the muscles in their tongue and mouth.
Apraxia is not just for kids, though! It frequently happens in adults after a stroke or traumatic brain injury (TBI).
(Image from https://www.depaulhearingandspeech.org/what-is-childhood-apraxia-of-speech/ )
What's the cause?
Currently the exact cause for Apraxia by itself is unknown, but we do know it can be developed as a secondary effect of brain damage such as a stroke, TBI, or a genetic syndrome.
Connected speech is extremely unintelligible.
Word production is not consistent; the same word is produced different ways on different days.
Sometimes shorter words are more clear than longer ones.
Sounds are often distorted or substituted.
Abnormal syllable stress.
Planned/frequently used words or phrases come out more clearly, as the motor plan for that sequence of sounds is more developed.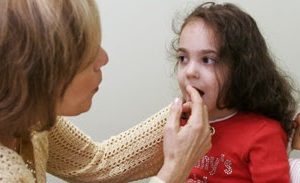 You'll never guess….speech therapy! The American Speech Language Hearing Association (ASHA) recommends therapy begin with 3-5x per week and can be reduced as progress is made. During therapy clients learn to correct motor patterns and create clearer, more intelligible speech. This is typically done through visual and tactile (touch) cues instead of auditory cues.
Remember the disconnect in the motor path I talked about earlier? If you sit there and tell a kid to "say it like this" with no visual or tactile input, chances are you'll eventually rip your hair out because it just ain't happening without it.
A popular tactile approach is called PROMPT. (Prompts for Restructuring Oral Muscular Phonetic Targets). With this program each sound has a hand signal or touch associated with it. For instance, the cue for "M" is a finger to the lips to show your lips should come together, a hand on the neck/throat to show your voice should be "on," and a finger to the side of the nose to emphasize that it is a nasal sound.
You can learn more on the PROMPT website if you are interested (link provided above).
(Image from https://apraxiastory.wordpress.com/top-3-must-dos/prompt-therapy/ ).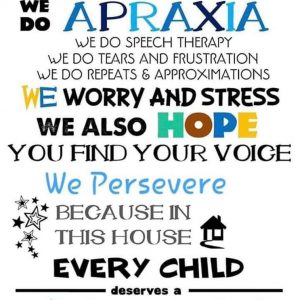 The Personal Side of Apraxia
If you know or love someone who has been diagnosed with Apraxia of Speech, you probably understand how frustrating it can be. I highly recommend finding some kind of support system whether it be another mom at the clinic you're attending, a Facebook group, a blog writer, etc. Here are some Facebook pages, blog posts, success stories, and other resources:
Facebook Page: Fighting for my Voice: My life with Verbal Apraxia

(Image on the left from this page).

Apraxia Kids
"How My Child with Speech Apraxia Says I Love You"
"Waiting on Words"
"SLP Mommy of Apraxia"
Parents please know: you're doing a GOOD job. Stop beating yourself up.
Legal Mumbo-Jumbo
Information in this post on Apraxia came from the following: